Finally, there's a travel mug that's been designed with practical portability in mind. The rCUP won't leak – ever! It keeps your drink hot or cold and you can pick it up without scalding your hand. You can easily open it and take a sip while you're on the move with one hand. Even better – the drinking experience is great – you never have to drink your coffee through a tiny hole ever again.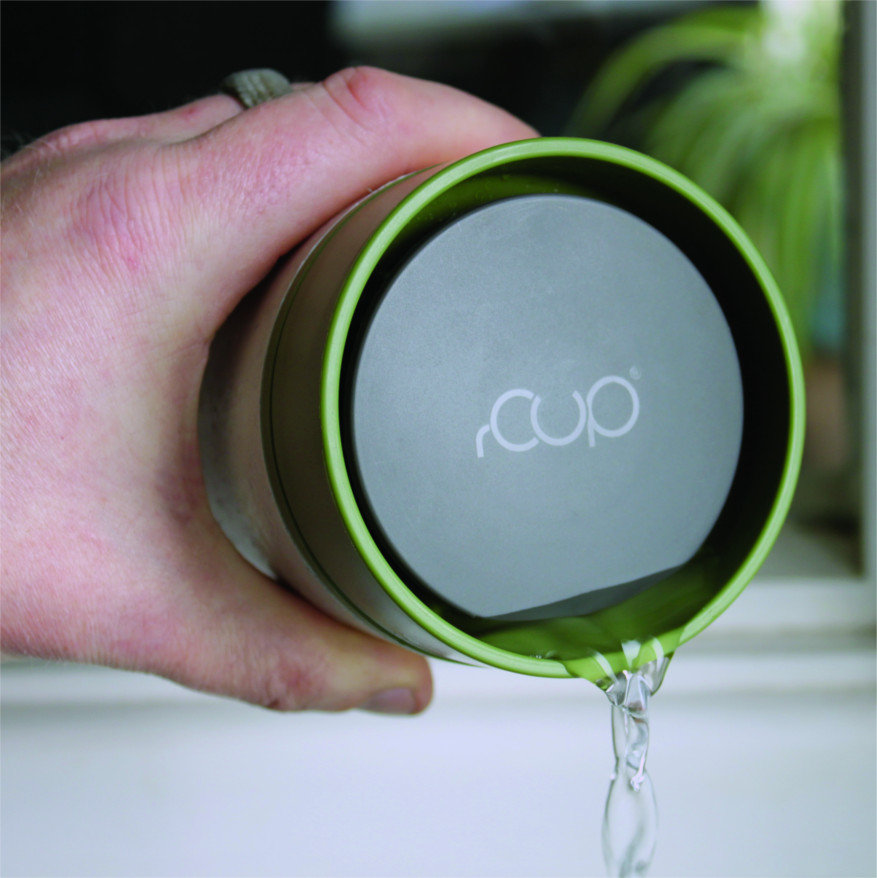 The story of rCUP
In late 2016 award winning Cornwall based eco-design company Ashortwalk were asked to develop ideas to turn used paper coffee cups into new products. At the time, a BBC campaign led by Hugh Fearnley-Whittingstall had successfully raised public awareness of the fact that only 0.4% of the disposable cups they used were actually being recycled. The tide had turned on our throwaway culture and people were demanding a more sustainable way to enjoy their coffee.
What can be done with waste coffee cups?
The reason why most paper cups aren't recycled is because they have a plastic lining, which makes them difficult to recycle as paper.One of our polymer and recycling partners, Nextek had recently carried out a PHD on recycling used paper cups with Imperial College London. Rather than trying to seperate the paper from the liner they took the logical approach of recycling the whole cup. By cleaning and shredding the cup they found a clever way of blending the strong fibres of the cup to a recycled plastic polymer. We were then able to begin work on blending this polymer with other recycled materials to mould it into new useful products.
Creating a genuinely useful reusable cup
The rCUP reusable coffee cup was designed by the team of designers to be genuinely useful. They wanted the design to be functional anywhere and everywhere.
Key features include:
100% leak proof
BPA free
Dishwasher safe
Well built, robust and long lasting (10+ years lifetime)
Can be opened and closed with one hand
Keeps drinks warm or cool depending on what's in it
Can be picked up even when the contents are very hot
Gives an enjoyable drinking experience just like a real mug
A cup that is made from waste, helps recycle waste and reduces waste
Their cup is currently the only one that is made from the single use cups that are still being used in coffee shops and cafes every day. It's all about the circular economy – by creating products from used cups they've stimulated the demand for the once worthless used paper cup. This demand increases the value of used paper cups, which enables recycling firms to invest in the infrastructure required to recycle them.
In real terms discarded coffee cups have zero value – in fact it actually costs £100 a tonne to dispose of them. But when captured and collected these cups for recycling, the value increases to around £35 a tonne. If you then process them into a useful polymer the value shoots up to £1,200 a tonne. When this polymer is used to make a new product, say, an rCUP reusable cup, its intrinsic value becomes £20,000 a tonne! This is the huge value of closed loop product design.
Rachel x
Please Note: I was not paid or asked to endorse this product and information in this post has been taken from the rCup website.